Hello!
How are you?
So this week I've been given some ebooks to read and review. And even though I have a million more still to read, I couldn't say no!
So today I bring you some of my new to-read books. *I'm adding them for no particular order*
I still have a few from Netgalley to read, but I'll show you those after!
Click on ''read more'' to know more about the books I'll be reading in the future! ;)
Drusilla by
Melissa
Frost
Story of an Ugly Stepsister
What if Cinderella isn't the sweet and tortured angel everyone believes? Instead, what if she's the most popular girl at school who is hell bent on making sure her ugly stepsister doesn't stand in the way of her popularity? A new story unfolds through the eyes of

Drusilla

...
Being sisters with bright and beautiful Ella is an unending nightmare for

Drusilla

. That is until the sisters accidentally open a portal to another dimension. The unlikely duo is forced to team up against a swarm of angry sprites, a clan of territorial gnomes, and a few other unlikely creatures. Their new portal comes with a fairy godmother, and there's even a bona fide fairy tale prince up for grabs. It might take impossible odds to bring these two together, but it's a story that proves even the ugly stepsister can sometimes be the hero.
Darkchylde: The Ariel Chylde Saga by R. Queen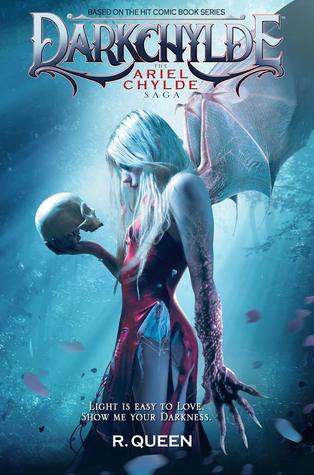 Synopsis:
''Ariel Chylde is haunted by horrible dreams, and on her eighteenth birthday sheds her skin as the nightmares emerge to act out her deepest, darkest impulses.
But before Ariel can save her small town from the terror of her dreams, she must first save herself from the sinister secret of her subconscious.
A secret guarded by unspeakable evil.''
Soulbound (Song of Souls) (Volume 1) by

Christen Stovall
Synopsis:
''Living in the quaint farming village of Brittendell offered a simple life of home and family. When Aislynn, the daughter of a local farmer, and Rorin, the son of a wealthy horse trader, married, another charming love story enlivened the tranquil town. Aislynn and Rorin were profoundly connected, but their relationship came to a screeching halt when Rorin was killed in a tragic accident. Their bond sends Aislynn into a spiraling depression as she continues sensing Rorin's presence. Soon, Aislynn finds herself thrust into a dangerous world of magic filled with hobgoblins, elves, and wizards. When Aislynn is captured by the future king of Venallis and forced to help him uncover a mysterious magical artifact she discovers that fate has far greater plans for her than she ever imagined. Perhaps death is not always the end.''
The Hidden Legacy by Christine Rees
Synopsis:
''The curse of premonition follows Faye Lithyer, forcing her to witness death—over and over again.
When Faye moves in with her grandmother in Astoria, Oregon, her visions grow stronger. Faye watches a new friend fall victim to a murder in the not-so-distant future and becomes obsessed with preventing it from happening. However, Faye's insecurity has her undecided whether she should tell her friend about their impending death or hunt down the murderer before it's too late.
Faye will be faced with an epic choice that threatens to expose her abilities. Will she choose to save her friend from a monster or risk becoming one herself?''
A Second Chance At Life by Kassandra Lynn
Synopsis:
''Lady Elaina had everything—wealth, title, and irresistible beauty—until her jealous half-sister ruined her reputation and forced her into a disgraceful marriage. She died amidst the flames, murdered and betrayed by her husband and half-sister. As the flames roared, the loss of her unborn child created a thirst for revenge.
A magical amulet sent her two years back in time. She has another chance to make things right for herself and her family, yet what began as a plot to undermine her half-sister's machinations quickly evolved into a political conspiracy that will rock the entire empire and make Elaina realize she might not have traveled back in time alone''
The Tower Must Fall by S. E. Bennett
Synopsis:
''The last fairy-tale ended a hundred years ago, and one thing is certain: the monsters lost. In the world beyond the Bay of Glass, humanity has an overwhelming majority, and the creatures that go bump in the night - the Cryptids - live in hiding. In some lands, discovery by the government spells death, while in others whole tribes are exterminated by knights in shining armor: the Animus.
Marek Tobar, a handsome, clumsy traveller, dreams of independence and uprising. It isn't long before his beliefs drop him in extremely hot water, and he somehow finds himself at the tender mercy of Enyo Namenlos.
A reformed knight of the Animus with many faces and no allegiance but to herself, Enyo has spent years hiding from the life she left behind. Determined to somehow salvage the best parts of herself, she needs to repay a blood-debt: she pledges to deliver Marek to Sanctuary, the hidden city of Cryptids.
With war brewing in smoky cities and wicked woods, Enyo and Marek find themselves woven into a story that began centuries earlier. But when happy endings are myth and goodness is relative, what does it mean to find your heart's desire?''
Thank you so much to all the publishers and/or author, for being kind enough to allow me to enter in their books!


What do you think about them?
Which one sound more appealing to you?
Never stop dreaming,
Tânia