Hi book-lovers!
This type of post is a bit clichê, I know, but I'm still making it now that that year is finally over.
I read some amazing books this year and even if I didn't review them (yet!), I want to let you know they exist and you should totally give them a chance!

So here it goes, my 2017 favourites:
A Torch Against the Night by Sabaa Tahir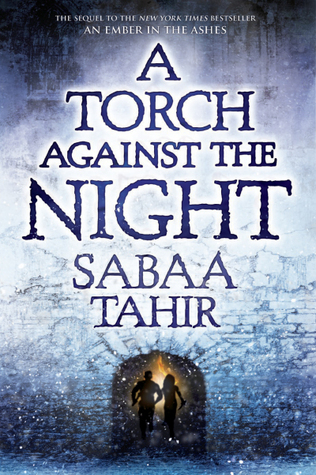 Synopsis:
Elias and Laia are running for their lives. After the events of the Fourth Trial, Martial soldiers hunt the two fugitives as they flee the city of Serra and undertake a perilous journey through the heart of the Empire.
Laia is determined to break into Kauf—the Empire's most secure and dangerous prison—to save her brother, who is the key to the Scholars' survival. And Elias is determined to help Laia succeed, even if it means giving up his last chance at freedom.
But dark forces, human and otherworldly, work against Laia and Elias. The pair must fight every step of the way to outsmart their enemies: the bloodthirsty Emperor Marcus, the merciless Commandant, the sadistic Warden of Kauf, and, most heartbreaking of all, Helene—Elias's former friend and the Empire's newest Blood Shrike.
Bound to Marcus's will, Helene faces a torturous mission of her own—one that might destroy her: find the traitor Elias Veturius and the Scholar slave who helped him escape…and kill them both.
Probably one of the books I liked more this year.
An Ember In the Ashes is one of my all time favourites and A Torch Against The Night was an amazing sequel. I can't wait for the third book * -*
A Court of Thornes and Roses by Sarah J. Maas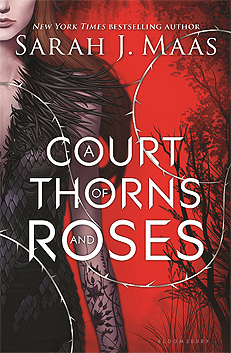 Synospis:
Feyre's survival rests upon her ability to hunt and kill – the forest where she lives is a cold, bleak place in the long winter months.
So when she spots a deer in the forest being pursued by a wolf, she cannot resist fighting it for the flesh. But to do so, she must kill the predator and killing something so precious comes at a price ...
Dragged to a magical kingdom for the murder of a faerie, Feyre discovers that her captor, his face obscured by a jewelled mask, is hiding far more than his piercing green eyes would suggest.
Feyre's presence at the court is closely guarded, and as she begins to learn why, her feelings for him turn from hostility to passion and the faerie lands become an even more dangerous place. Feyre must fight to break an ancient curse, or she will lose him forever
Now, I loved this trilogy. I am beyond obcessed with it but this one was actually a big let down. I loved the second and the third, but since I didn't want to spoil it for you, I choose to show the first one. I read the three this year so, I'm not cheating!
Lord of Shadows by Cassandra Clare
Synopsis:
Would you trade your soul mate for your soul?
A Shadowhunter's life is bound by duty. Constrained by honor. The word of a Shadowhunter is a solemn pledge, and no vow is more sacred than the vow that binds parabatai, warrior partners—sworn to fight together, die together, but never to fall in love.
Emma Carstairs has learned that the love she shares with her parabatai, Julian Blackthorn, isn't just forbidden—it could destroy them both. She knows she should run from Julian. But how can she when the Blackthorns are threatened by enemies on all sides?
Their only hope is the Black Volume of the Dead, a spell book of terrible power. Everyone wants it. Only the Blackthorns can find it. Spurred on by a dark bargain with the Seelie Queen, Emma; her best friend, Cristina; and Mark and Julian Blackthorn journey into the Courts of Faerie, where glittering revels hide bloody danger and no promise can be trusted. Meanwhile, rising tension between Shadowhunters and Downworlders has produced the Cohort, an extremist group of Shadowhunters dedicated to registering Downworlders and "unsuitable" Nephilim. They'll do anything in their power to expose Julian's secrets and take the Los Angeles Institute for their own.
When Downworlders turn against the Clave, a new threat rises in the form of the Lord of Shadows—the Unseelie King, who sends his greatest warriors to slaughter those with Blackthorn blood and seize the Black Volume. As dangers close in, Julian devises a risky scheme that depends on the cooperation of an unpredictable enemy. But success may come with a price he and Emma cannot even imagine, one that will bring with it a reckoning of blood that could have repercussions for everyone and everything they hold dear.
The best book of the year. It's Cassandra Clare so there's not really much competition. (If you don't know she's probably my favourite writer!). What she's doing with The Dark Artificies is something else. If you haven't given it a shot, go.NOW.
A Night of Cakes and Puppets by Laini Taylor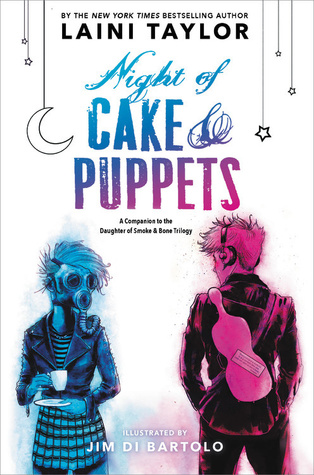 Petite though she may be, Zuzana is not known for timidity. Her best friend, Karou, calls her "rabid fairy," her "voodoo eyes" are said to freeze blood, and even her older brother fears her wrath. But when it comes to the simple matter of talking to Mik, or "Violin Boy," her courage deserts her. Now, enough is enough. Zuzana is determined to make the first move, and she has a fistful of magic and a plan.
It's a wonderfully elaborate treasure hunt of a plan that will take Mik all over Prague on a cold winter's night before leading him to the treasure: herself! Violin Boy is not going to know what hit him.
New York Times bestselling author Laini Taylor brings to life a night only hinted at in the Daughter of Smoke & Bone trilogy—the magical first date of fan-favorites Zuzana and Mik. Originally published as an ebook, this new print edition will include breathtaking black and white illustrations, plus bonus content in a gorgeous package perfect for new and current fans of the series.
I hadn't realized how much I missed Laini Taylor's writing until I got this book (which was a Christmas present - Thanks Mom!) and this book is brilliant. The story is brilliant, the illustrations are amazing, the little comic in the end... I just missed Zuzana and Karou and Mik so much * - * If you are a fan of A Daughter of Smoke and Bone go read this now!
Fragments of the Lost by Megan Miranda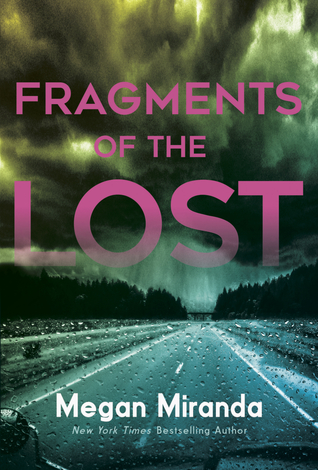 Synopsis:
Jessa Whitworth knew she didn't belong in her ex-boyfriend Caleb's room. But she couldn't deny that she was everywhere--in his photos, his neatly folded T-shirts, even the butterfly necklace in his jeans pocket . . . the one she gave him for safe keeping on that day.
His mother asked her to pack up his things--even though she blames Jessa for his accident. How could she say no? And maybe, just maybe, it will help her work through the guilt she feels about their final moments together.
But as Jessa begins to box up the pieces of Caleb's life, they trigger memories that make Jessa realize their past relationship may not be exactly as she remembered. And she starts to question whether she really knew Caleb at all.
Each fragment of his life reveals a new clue that propels Jessa to search for the truth about Caleb's accident.
What really happened on the storm-swept bridge?
This book was the revelation of the year.
My review about it is up. Go read it to understand why.
Before I go, here are so honorable mention that almost made to list below but failed the shot for one reason or the other.
Koldbrann Part 1 - Rebels by Ana Cláudia Dâmado
Synopsis:
Num mundo apocalíptico, a população saudável vive em cidades-bunker, chamadas de fortalezas, que os protegem dos perigos do mundo exterior, onde é melhor morrer, que deixar de ter o sangue vermelho.
A limitação da liberdade alheia cria estruturas sociais muito restritas que todos são são obrigados a cumprir.
Esta é a história de Diana Salvatore, uma jovem que se revolta contra o destino que lhe foi imposto.
Throne of Glass by Sarah J. Maas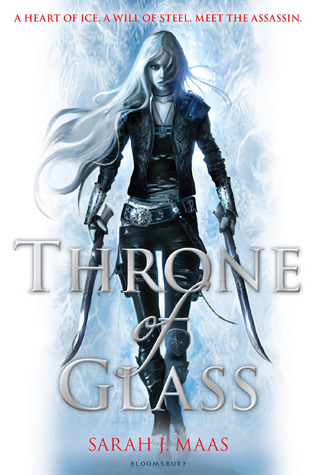 Synopsis:
Destined for greatness.
In the dark, filthy salt mines of Endovier, an eighteen-year-old girl is serving a life sentence. She is a trained assassin, the best of her kind, but she made a fatal mistake.
She got caught.
Young Captain Westfall offers her a deal: her freedom in return for one huge sacrifice. Celaena must represent the prince in a to-the-death tournament—fighting the most gifted thieves and assassins in the land. Live or die, Celaena will be free. Win or lose, she is about to discover her true destiny.
But will her assassin's heart be melted?
An that's it guys! My favourite reads of 2017! Are any of these yours? Let me know in the comments if you've read any of these books and what are your absolute favourite books of the late year.